R.V. Dry Camping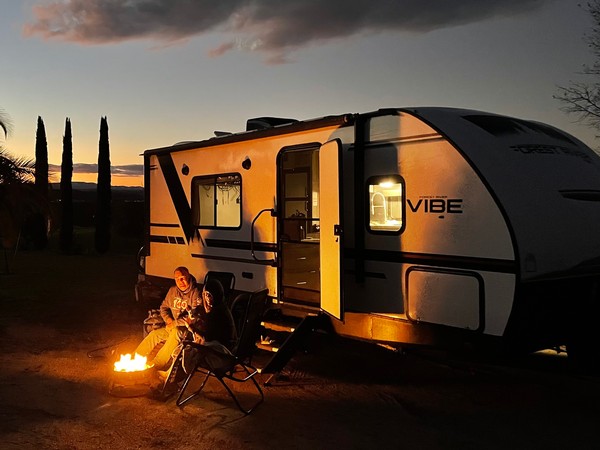 We are a Harvest Host member, so go to your Harvest Host account and book your space with us now! https://harvesthosts.com/
*If you have any questions contact Raynette or Rachael: mail@locatelliwinery.com / 805-467-0067
Guests must have a self contained Recreational Vehicle.
R.V. Dry Camping Rules & Regulations:
Check in time is 2:00pm
Check out time is 12:00 noon (two (2) night stay max)
Please stay in assigned space.
Parents are responsible for the supervision of their children.
Winery is not responsible for your children's safety.
No loud noises after 10pm including loud music and generator.
Self contained gas barbecues are permitted, but NO campfires or open flame cooking.
Dogs must be on leash at all times. Two dogs max per RV space!
One R.V. per reservation and space. Owners of any additional R.V.'s must make their own reservation for their own space.
One additional trailer or tow behind vehicle is permitted per space (Two motorize vehicles total per space).
Any additional guests coming to visit you while you are staying on our property must check in with the owners or management, and must be off our property by 10pm.
One guest vehicle per RV space.
R.V. parking only, NO tent camping!
This is dry R.V. camping, ALL human waste must be self contained.
We do not provide sewage, water, or electrical hook ups.
Please clean your space before leaving, and leave your space as clean as it was when you arrived.
You are in a natural environment, that comes with natural wild life, including snakes, tarantulas, wild pig, fox, coyote, deer, owl, etc… Please respect our natural surroundings, and please don't leave food or trash outside your vehicle after sunset to prevent our local wildlife from interfering with your stay.
The use of our property is subject to weather. If weather is not permitting we may cancel your reservation due to dangerous driving conditions and potential hazards on our property caused by weather.
This is a working ranch/farm with heavy equipment and machinery running and moving on the property at all times. Please be aware of your surroundings and take necessary precautions when walking around the property. Please supervise your children and keep an eye on them at all times.
Thank you, and enjoy your stay! Raynie, Rachael, & Brooke
*Final Note: We want you to enjoy your stay, and have a pleasant time while visiting, but please remember that you are on private property, and you are considered a guest of the owners of this property, therefore, if the above rules and regulations are broken and/or ignored, we reserve the right to ask you to leave, or remove you from our property at any time.